Radial Headload 吉他放大模拟器DI直插盒批发零售 隔离变压器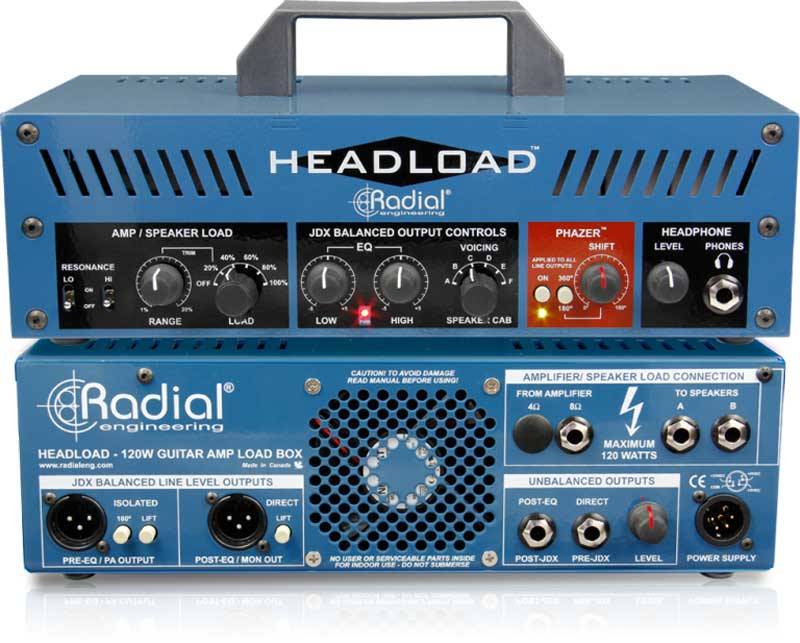 产品描述
| | | | |
| --- | --- | --- | --- |
| 品牌 | Radial | 型号 | Radial Headload |
| 网络标准 | Radial Headload 吉他放大模拟器DI直插盒批发零售 隔离变压器 消除接地回路的噪声DI直插盒 吉他DI盒 Radial DI直插盒 这就是声海创新带给大家"Radial Headload Guitar Amp Load Box "的介绍。如果想了解更多产品价格可以点击查看产品请点击全部商品分类. 承接多功能厅、会议室、报告厅、歌舞厅、体育场馆、剧场、礼堂、酒吧、酒店、公共广播、舞台、教室、多功能厅,以及KTV,家庭卡拉OK一切商业用途音视频灯光音响扩声系统工程。提供方案设计、安装、调试等服务。为客户量身定制具有较强现实适用性的系统解决方案,欢迎您来电咨询!了解更多品牌产品请,致电咨询我们客服更优惠,欢迎您来电咨询! 24小时服务热线:18618339665,13146744100 | 网络标准 | 13141244200 QQ: 2899296168 |
| 网络标准 | 2782522719 | 网络标准 | 2734604569 |
| 网络标准 | 2752684760 声海创新--经销-正品保证! www.yphbuy.com 3.jpg Headload Guitar Amp Load Box Guitar Amp Load Box The Headload? is a power attenuator that connects between your amplifier and speaker to capture the dynamics and warmth of your amp at low | 网络标准 | neighbour-friendly volumes .Combination load box and DI with speaker emulation Available in 4 |
| 网络标准 | 8 | 网络标准 | or 16 Ohms Can handle up to 130 watts RMS (180 peak) Attenuate down to 1% of total power Sound Loud |
| 网络标准 | Play Quiet! Featuring two built-in JDX amp DIs—one pre-EQ and one post-EQ—the Headload eliminates the need to use a microphone to capture the sound from your amplifier. Should you decide to combine the DI signal with a microphone | 网络标准 | the Headload is augmented with a built-in Radial Phazer to time-align the two signals to create massive tones. The Headload uses a 6-position rotary switch to set the desired power reduction from unaltered all the way down to complete silence. When the output is completely soaked |
| 网络标准 | the high-quality headphone amplifier can be used for silent 3:00AM practicing. Headload Specifications The Headload is a device that is intended to simulate the sound of a guitar cabinet and allow the user to compensate for the sound depending on the level that is being produced. That said | 网络标准 | the following specifications do not provide any truly significant information as it is completely dependent on the amplifier and speaker cabinet in use. As such |
| 网络标准 | we ask you to please review with the awareness that these measurements are truly subjective in nature. The Radial Headload is quite likely the most useful load box ever made. Headload-panels-stacked.jpg Headload-front.jpg Headload-rear-panel.jpg Specifications Block Diagram Graphs Specifications Audio circuit type: Passive attenuation circuit with active equalization Gain: -40dB typical Total harmonic distortion: <0.05% Intermodulation Distortion: <0.05% Input Impedance: 8 ? Output Impedance: 250 ? Noise: -104dbu Unweighted Features 180° polarity reverse | 网络标准 | Ground lift |
| 网络标准 | HPF | 网络标准 | LPF |
| 网络标准 | Level Control | 网络标准 | Phase Adjustment |
| 网络标准 | Speaker filter | 网络标准 | Headphone Input Connectors: From Amp 1/4" Output Connectors: XLR & 1/4" Pre and Post JDX |
| 网络标准 | To Speaker 1/4" Extras: Headphone output General Construction: 14 gauge steel chassis & outer shell Size (L x W x D): 6.05" x 12" x 3.45" (154mm x 305mm x 87.6mm) Weight: 8lbs. (3.63kg) Shipping size (L x W x D): 8" x 14" x 5" (203mm x 365mm x 127mm) Shipping weight: 10lbs. (4.5kg) Power: Radial +/-15V 4-Pin 500mA power supply Conditions: For use in dry locations only between 5°C and 40°C Warranty: Radial 3-year | 网络标准 | transferable headload-userguide-1.jpg headload_7-hirez.jpg headload_9-hirez.jpg headload-strat.jpg smartsheet-Headload.jpg Headload-w-THD.jpg MG_7851.jpg |
| 状态指示灯 | LED | 电压 | 20V |
| 产地 | 加拿大 | | |
  Radial Headload 吉他放大模拟器DI直插盒批发零售 隔离变压器 消除接地回路的噪声DI直插盒 吉他DI盒 Radial DI直插盒
  这就是声海创新带给大家"Radial Headload Guitar Amp Load Box "的介绍。如果想了解更多产品价格可以点击查看产品请点击全部商品分类. 承接多功能厅、会议室、报告厅、歌舞厅、体育场馆、剧场、礼堂、酒吧、酒店、公共广播、舞台、教室、多功能厅,以及KTV,家庭卡拉OK一切商业用途音视频灯光音响扩声系统工程。提供方案设计、安装、调试等服务。为客户量身定制具有较强现实适用性的系统解决方案,欢迎您来电咨询!了解更多品牌产品请,致电咨询我们客服更优惠,欢迎您来电咨询!
  24小时服务热线:, ,
  QQ: 2899296168 , 2782522719 , 2734604569 , 2752684760
  声海创新--经销-正品保证!
  Headload Guitar Amp Load Box
  Guitar Amp Load Box
  The Headload? is a power attenuator that connects between your amplifier and speaker to capture the dynamics and warmth of your amp at low, neighbour-friendly volumes
  .Combination load box and DI with speaker emulation
  Available in 4, 8, or 16 Ohms
  Can handle up to 130 watts RMS (180 peak)
  Attenuate down to 1% of total power
  Sound Loud, Play Quiet!
  Featuring two built-in JDX amp DIs—one pre-EQ and one post-EQ—the Headload eliminates the need to use a microphone to capture the sound from your amplifier. Should you decide to combine the DI signal with a microphone, the Headload is augmented with a built-in Radial Phazer to time-align the two signals to create massive tones. The Headload uses a 6-position rotary switch to set the desired power reduction from unaltered all the way down to complete silence. When the output is completely soaked, the high-quality headphone amplifier can be used for silent 3:00AM practicing.
  Headload Specifications
  The Headload is a device that is intended to simulate the sound of a guitar cabinet and allow the user to compensate for the sound depending on the level that is being produced。 That said, the following specifications do not provide any truly significant information as it is completely dependent on the amplifier and speaker cabinet in use。 As such, we ask you to please review with the awareness that these measurements are truly subjective in nature。 The Radial Headload is quite likely the most useful load box ever made。
  Specifications
  Block Diagram
  Graphs
  Specifications
  Audio circuit type: Passive attenuation circuit with active equalization
  Gain: -40dB typical
  Total harmonic distortion: <0.05%
  Intermodulation Distortion: <0.05%
  Input Impedance: 8 ?
  Output Impedance: 250 ?
  Noise: -104dbu Unweighted
  Features
  180° polarity reverse, Ground lift, HPF, LPF, Level Control, Phase Adjustment, Speaker filter, Headphone
  Input Connectors: From Amp 1/4"
  Output Connectors: XLR & 1/4" Pre and Post JDX, To Speaker 1/4"
  Extras: Headphone output
  General
  Construction: 14 gauge steel chassis & outer shell
  Size (L x W x D): 6.05" x 12" x 3.45" (154mm x 305mm x 87.6mm)
  Weight: 8lbs. (3.63kg)
  Shipping size (L x W x D): 8" x 14" x 5" (203mm x 365mm x 127mm)
  Shipping weight: 10lbs. (4.5kg)
  Power: Radial +/-15V 4-Pin 500mA power supply
  Conditions: For use in dry locations only between 5°C and 40°C
  Warranty: Radial 3-year, transferable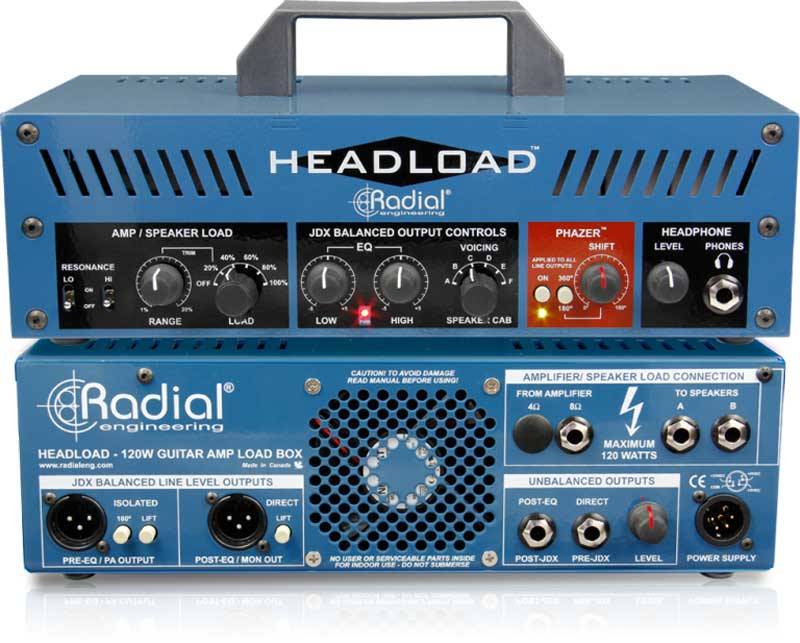 Radial Headload 吉他放大模拟器DI直插盒批发零售 隔离变压器
相关产品